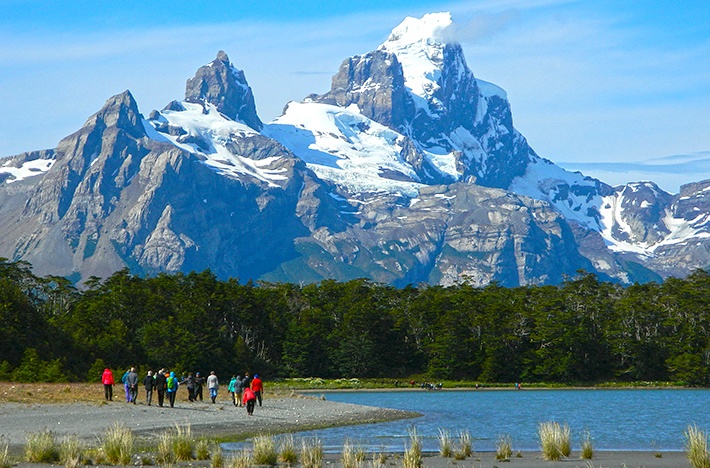 Sailing the fjords and channels of Tierra del Fuego is a unique and unforgettable experience. And while it sometimes feels like we are the first to discover these incredible places, others were the true pioneers.
German explorer, sailor and pilot Gunther Plüschow, fascinated by the far reaches of the South American continent, first arrived in the region 90 years ago. As a crewman aboard the clipper ship Parma, he sailed through the Drake Passage between Cape Horn and the Antarctic. So impressed was he by the first voyage, Plüschow made the decision to return to Patagonia three years later. This time he traveled aboard the expedition ship Feuerland (the German name for Tierra del Fuego) with a cargo that included a light seaplane named the Silberkondor (Silver Condor). After landing at Punta Arenas, he began an epic aerial exploration of the region.
In 1928, Plüschow became the first person to fly across the Darwin Range, taking the mail with him from Punta Arenas to Ushuaia, Argentina. Many other flights through the region followed, including aerial journeys over the Torres del Paine mountains and Cape Horn. When he wasn't in the air, Plüschow was aboard the Feuerland exploring the same Patagonian fjords and channels that the expedition cruise ships of Australis ply today.
For me, as a guide of German origin, it's a very special experience to follow in his tracks on my own journeys around Tierra del Fuego. Disembarking at the majestic Águila Glacier in the exact place where photos were taken of Plüschow and his seaplane in 1928, I try to imagine how it was for this German adventurer almost a century ago. How he fought the wind and cold, what it must have been like to fly above the Darwin Range with its many glaciers, and how he sailed the Agostini Sound, the Beagle Channel and down to Cape Horn.
Although sailing techniques and safety features have changed much since then, my own voyages and excursions, as well as my life and work aboard the Australis expedition ships, continues to be a great adventure for me in a rare and wonderful landscape. And in some ways, remarkably similar to how Gunther Plüschow describes his experience at the end of the world in the book Silberkondor über Feuerland ("Silver Condor Over Tierra del Fuego").