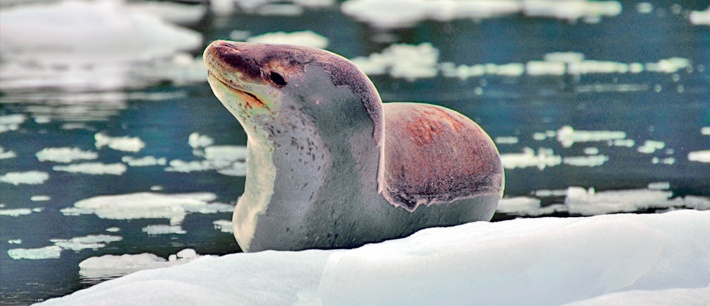 All around the world there are fascinating places: The immensity of Machu Picchu, the mystery of the moai on Easter Island, or the ancient wisdom you breathe just walking by the Acropolis in Athens, just to mention a few. All one of them boast a huge amount of "fascinans" that captures the imagination of visitors.
However, when you contemplate nature, the fascination always comes with the impressive, the overwhelming — the "tremendum" — transforming the experience into something even more unforgettable.
Called "tremendum et fascinans" by the ancients, this feeling of awe was something that all of us experienced this morning as we visited Parry Fjord. The great frozen amphitheater surprised and fascinated us with a plot that no writer could ever produce: mountains flanking the path of our Zodiac boat, magnificent glaciers all around, and a sleepy leopard seal resting on a floating slab of glacial ice. Neither the rain nor the wind dampened the experience or the satisfaction of having observed what we saw during our journey up the sound.
Unless you've seen it with your own eyes, it's almost impossible for the mind to imagine the wonders that Patagonia has reserved for those who visit her.