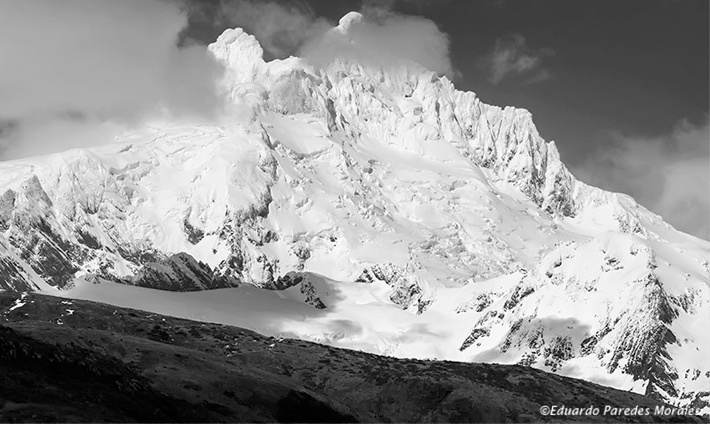 South of the Strait of Magellan lurks one of the world's most pristine regions: the Tierra del Fuego Archipelago, whose namesake island lies among a labyrinth of channels and fjords.
In this mysterious land you find one of the three South American ice fields that together comprise the third largest reserve of freshwater on the planet after Antarctica and Greenland. Like a giant spine running across the archipelago, the Darwin Range awes with its peaks soaring almost straight up from sea level between glaciers and fjords, and ultimately forming a beautiful postglacial landscape.
Some of the most important peaks are Mount Shipton (2,568 meters), Monte Darwin (2,434 meters), Monte Italia (2,062 meters), Pico Frances (2,279 meters) and Monte Sarmiento (2,300 meters). The latter, despite not being part of the Darwin Range, is undoubtedly the most impressive peak within the archipelago. It was also the lifetime obsession of one of Patagonia's greatest explorers: Alberto Maria De Agostini, whose name today is given to the national park that protects the Darwin Range.
The peaks rise towards the sky like the legendary fire that emerges from the heart of this mysterious land — just one aspect of the incredible place called Tierra del Fuego.
Source: Instituto Geográfico Militar (IGM) and Dirección Nacional de Fronteras y Límites del Estado (DIFROL).