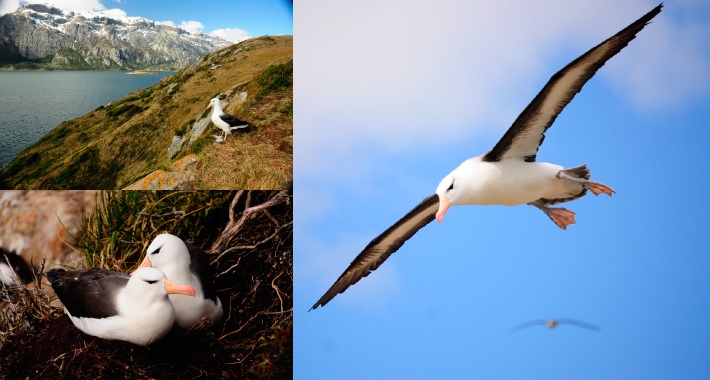 When Australis began to pioneer new routes several years ago, a new alliance was formed with the New York-based Wildlife Conservation Society (WCS), because for the first time we were going to visit a southern elephant seal (Mirounga leonina) colony in Karukinka Natural Park along the western shore of Tierra del Fuego. As part of the partnership, Australis agreed to transport and expedite the work of WCS researchers and scientists working on wildlife conservation studies in the region. But there was mutual benefit: Having them onboard allowed us to arrange special presentations for our passengers on local flora and fauna from people who were experts in their fields.

A couple of days ago, Benjamín Cáceres and Jill Carlile of WCS joined us aboard the Via Australis. The main goal of their journey with us was checking the current state of a black-browed albatross (Thalasarche melanophrys) colony threatened by the presence of one of Patagonia's most harmful invasive species: the American mink (Neovison vison).
The colony is located in a place called the Albatross Islet on Admiralty Sound. WCS had already set ten traps there a few days before our arrival in order to curtail minks that had already reached the island. We disembarked at the islet and started to check the traps. But sadly, no minks had been captured. More than a little concerned, Benjamin and Jill didn't know what to think of this at first. It was possible the minks had already raided the albatross nests and fled the island. So we quickly made our way to the other side of the islet and the colony's nesting area. What a relief that 24 eggs were still intact!
Seeking out the nests and counting the eggs was a whole new experience for me, one that I thoroughly enjoyed. In addition to helping the WCS scientists preserve this threatened species, I was able to get very close to the majestic birds. Despite their size, they are docile and don't seem to fear man. We tried to keep a prudent distance from them, but considering that we were on a cliff, it was a little hard at times. However, they never seemed to be scared of us. Seeing them take off, fly into the sky and tame the strong Patagonian winds was an experience that I will always treasure.
After two hours on the islet, we headed back to the ship, satisfied with the knowledge that, at least for the moment, the albatross colony is in good hands.